Judo originated in Japan in the late 19th century, as an activity embracing physical, mental, educational and moral aspects.
Judo became the first sport of Asian origin to be included in the Paralympic Games when it was introduced at Seoul 1988 with men's competitions.
Great Britain's Simon Jackson became the first ever judo Paralympic champion, competing in the up to 60kg.
Six women's events were added to the programme at Athens 2004. France's Karima Medjeded (up to 48kg) took the first women's title.
Brazil's Antonio Tenorio is the most decorated athlete with four consecutive golds won between Atlanta 1996 and Beijing 2008 in the men's over 100kg. Tenorio added a bronze and silver to his collection at London 2012 and Rio 2016, respectively.
The inventors of judo, Japan, are unsurprisingly the most successful country at the Paralympics with 12 golds and 30 medals overall.
At Rio 2016, 129 judoka from 36 countries competed in the largest ever field at a Paralympic Games.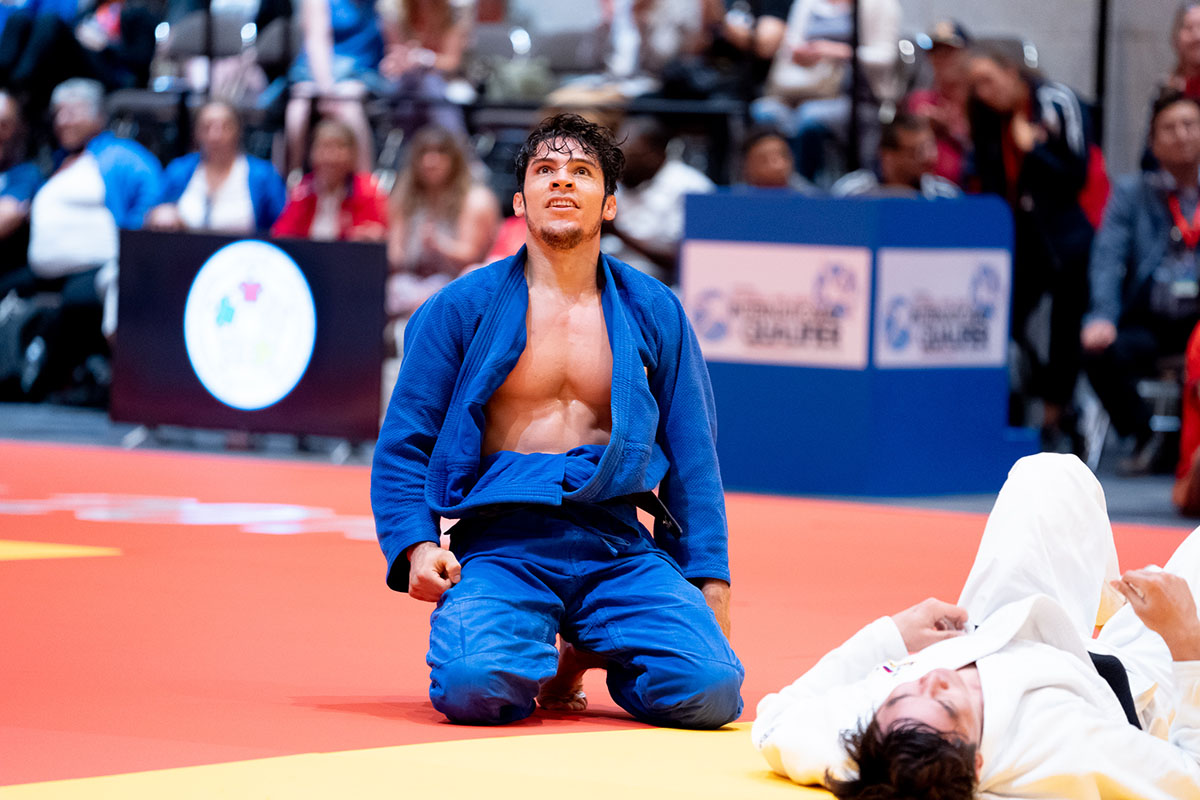 Overall medals table at the Paralympic Games
---
No.
COUNTRY
GOLD
SILVER
BRONZE
TOTAL
1.
Japan (JPN)
12
9
9
30
2.
China (CHN)
8
10
6
24
3.
Cuba (CUB)
6
0
7
13
4.
Azerbaijan (AZE)
5
3
3
11
5.
Brazil (BRA)
4
9
9
22
6.
Spain (ESP)
4
8
7
19
7.
France (FRA)
4
5
11
20
8.
Germany (GER)
4
4
8
16
9.
Ukraine (UKR)
4
3
8
15
10.
South Korea (KOR)
4
2
6
12
11.
Great Britain (GBR)
3
3
9
15
12.
Uzbekistan (UZB)
3
2
6
11
13.
Mexico (MEX)
3
1
1
5
14.
Algeria (ALG)
3
0
5
8
15.
United States (USA)
2
6
13
21
16.
Russia (RUS)
2
5
16
23
17.
Austria (AUT)
2
0
0
2
18.

 Chinese Taipei (TPE)

1
1
2
4
19.

Venezuela (VEN)

1
0
3
4
20.
Australia (AUS)
Georgia (GEO)
1
1
0
0
0
0
1
1
22.

Argentina (ARG)

0
2
3
5
23.
Italy (ITA)
Turkey (TUR)
0
0
1
1
3
3
4
4
25.
Iran (IRI)
Unified Team (EUN)
0
0
1
1
1
1
2
2
27.

Hungary (HUN)

0
0
5
5
28.

Canada (CAN)

0
0
4
4
29.
Finland (FIN)
Lithuania (LTU)
0
0
0
0
2
2
2
2
31.
Mongolia (MGL)
Netherlands (NED)
Romania (ROU)
Sweden (SWE)
0
0
0
0
0
0
0
0
1
1
1
1
1
1
1
1
Total (34 nations):
77
77
157
311